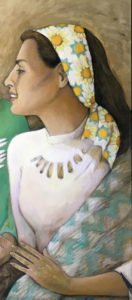 My paintings integrate a delicate balance of structures, keen visual observations, and emotional perceptions. I often use tree limbs as a structural component around which to capture the fleeting nuances of light, color, season, and pattern.  Transparent glazes capture the changing light as it passes over through and around a carefully observed grid-work of rhythmic forms.  Within the structures of nature are geometries, fractals, and patterns.  Yet, in the midst of such complexity bleeds through a unity of soul which transcends the material skin things.   I seek to convey this unity of effect by merging the seen world with the felt world, observation with expression, and the intangible with what is directly seen.
My visual vocabulary comes from years of reflecting upon and studying nature.  My work is layered and sensual.  A quietness pervades my pieces. Viewers are invited to pause and take in the full range of effects that would be lost at first glance.  In this way I emulate  nature who reveals herself through quiet observation and awareness.  Like nature my art works reveal themselves over time.  In this way, the initial subject matter transcends its ordinariness and diversity smooths and merges into unity.
My mosaics incorporate many of these same qualities using rocks, glass, gem stones, petrified wood,  and all types of ceramics.  The elemental and tactical qualities of the objects add their own distinctive essence to the mix. Patterns and cuts are arranged in such a way that one object often appears to morph into another.  This montage of effects is enhanced by protruding dishes and objects.  Symbolism and an element of whimsy are often included.
Born in Minneapolis, Minnesota, Therese began drawing figures on walls at two years of age.  She is largely self taught and has explored various mediums and forms of expression throughout her life.   For many years, she enjoyed a successful art career in Connecticut  painting the local landscape and creating her unique mosaics.  Eventually she moved to Santa Fe, New Mexico with its own montage of affects and natural beauty.  She deepened her perceptions and began developing her own iconography and symbolism.  These are becoming more and more evident in her current figurative works.  She has also used art as a means of vision making and community involvement by developing and implementing projects.