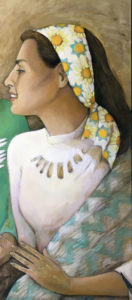 Therese's paintings integrate a delicate balance of material forms, keen observation, and emotional perceptions. Inspired by the beauty of the natural world and the aesthetics of the art materials in their own right, she unites these together in a fresh way.  Her paintings combine elements of Classical design with a carefully observed Naturalism and the color palette of Impressionism. Furthermore, she employees Rembrandt's use of sharp and soft focus wherein the viewer's eye is drawn to a central focal of refined detail and delicately layered glazes.  Moving outward her brush strokes become increasingly larger and more expressionistic.  In some of her paintings, this outward movement of strokes continues to devolve into abstraction. This range of brushwork allows the process of the painting to be seen and produces an effect of dynamic stillness.  Both order and chaos are present.  We do not live in a static world of separate things, but in a dynamic universe rising out of a pulsating quantum field, gyrating electrons and flying particles.  These divergent qualities can be seen in through her brushwork often creating energized stillness. A seated figure or serene landscape is yet vitally alive.
Geometric shapes and pattern are prominent in many of Therese's paintings and all of her mosaics. She uses tree limbs as a structural component or grids around which to capture the fleeting nuances of light, color, and pattern.  Nature is full of geometries, fractals, and repeating patterns.  These bleed through some of her backgrounds.  Viewers are invited to pause and take in the full range of effects that would be lost at first glance.  Yet, in the midst of this complexity is a unity of cohesive design creating unity.
Her mosaics incorporate many of these same themes using rocks, glass, gem stones, petrified wood,  and all types of ceramics.  The elemental and tactical qualities of the objects add their own distinctive essence to the mix. Patterns and cuts are arranged in such a way that one object often appears to morph into another.  This montage of effects is enhanced by protruding dishes and objects.  Symbolism and  of whimsy are often included.  In Therese's mosaics, unity is literally created out of diversity.
In summation, Therese's visual vocabulary comes from years of reflecting upon and studying nature and art.  Her work is layered and sensual, refined and expressive.  A calmness pervades many of her pieces over an energized foundation of brushwork.  Her artwork embodies a fresh synthesis of Classical and Contemporary themes and techniques.
Born.  Minneapolis, MN
Education.  Bachelor of Design, University of Florida, 1989
Group and Solo Exhibitions.
2019 Jezebel Gallery, Madrid, NM

2018 Jezebel Gallery, Madrid, NM

2010 William & Joseph Gallery, Santa Fe, NM

2007 Santa Fe Soul, "Feminine Soul," Santa Fe, NM "Solo"

2007 West Main Street Studio, Chester, CT

2006 Leif Nilisson Spring Street Studio and Gallery, Chester, CT

2005 Yoga Center, "Essence and Form," Collinsville, CT "Solo"

2005 Haddam Community Art Show, Haddam, CT

2004 Chester Gallery, Chester, CT

2003 River Road Gallery, Wilton, CT

2003 The Outsiders Gallery and Hand-Forged Art, Litchfield, CT

2003 Private Exhibition, "Art in the New Year," Madison, CT "Solo"

2002 United Technologies Data Center, Newington, CT

2002 Private Exhibition, "Summer Solistice," Haddam, CT "Solo"

2002 Glastonbury Annual Art Festival, Glastonbury, CT

2001 Brush with Winter Annual Art Show, Southington, CT

2000 Private Exhibition, "New Millennium," Fort Collins, CO "Solo"

2000 Upstairs Gallery, Nantucket, MA

1999 Artist Association, Nantucket, MA
Purchases and Collections.
Hotel Santa Fe Spa, Santa Fe, NM

Santa Fe Soul, Santa Fe, NM

Viola Group and Family, Madison, CT

Glastonbury Design, Glastonbury, CT

Jan Sweet, Haddam, CT

Gerry Matthews, Haddam, CT

Caveys Restaurants, Manchester, CT

Many private commissions and installations